Cutting edge technology that improves sustainability & operating efficiency
Fuel Ox®
Saves You Time
Saves You Money
Saves Your Machines
Saves the Environment
Welcome to the Home of Fuel Ox
®

& Infinity Lube™
Industry has struggled forever to find a way to significantly reduce the cost of maintaining its capital equipment. Friction and inefficient combustion are the greatest destroyers of machinery, efficiency, and the environment. We provide the industrial world with the most powerful lubricants and fuel additives that not only extend the life of equipment but also reduce greenhouse gas emissions, fuel consumption, maintenance, and replacement parts costs.
The Fuel Ox® Infinity Lube™ and Fuel Ox® fuel additive line of products have accomplished this and by doing so offer value far beyond that of our competition. Our patented lubricant and fuel additive formulas, derived from renewable plant sources, are proven to deeply penetrate surfaces and reduce friction. They have been tested against all competitive products in the marketplace and our results show that they outlast conventional oil by up to 4x while reducing emissions by up to 50%.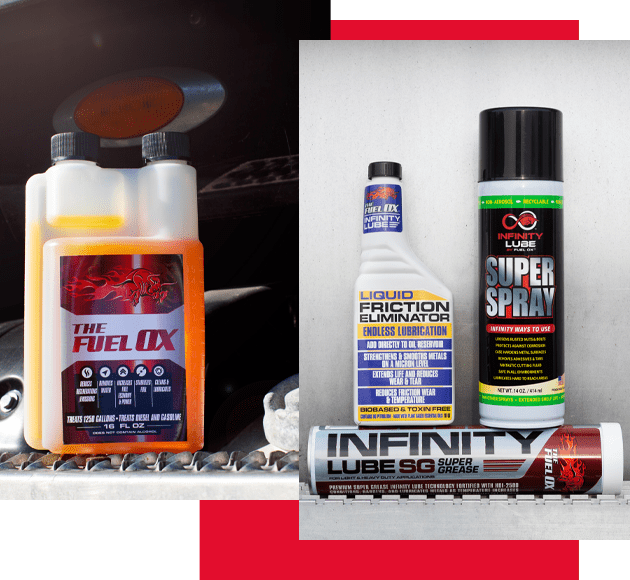 Less Emissions • Better Fuel Economy •
More Power
OUR PATENTED, SUPER MULTIFUNCTIONAL COMBUSTION CATALYST
A multifunctional and performance enhancing additive with Combustion Catalyst that provides sustainability, reduction in maintenance costs and emissions, and an increase of fuel efficiency. Contains lubricity agents, detergents, emulsifier, and stabilizers.
Lubricates • Protects • Case Hardens
Extends life of metal, minimizes downtime, gives unsurpassed protection
A premium penetrating lubricant spray, cleaner, cutting fluid, and degreaser fortified with our patented HDI-2500 metal conditioning formula. Contains no petroleum, made with plant-based essential oils, is "green" and toxin free.
Our Products
Browse by category to find the treatment, additive, or lubricant for your needs.
Our Products
Browse by category to find the treatment, additive, or lubricant for your needs.
Fuel Ox
®

is set apart from others on the market
Fuel Ox® is superior in many respects including fuel efficiency, pollution reduction, parts maintenance, and more. Our product has a higher concentration, it's soluble in petroleum-based fuels (gas, diesel, kerosene, heavy fuel oils, etc.), and it just runs right.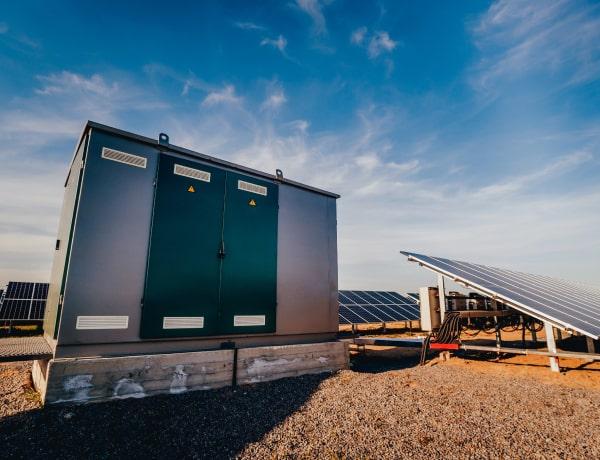 CHOOSE Cutting-Edge Technology That Improves both Efficiency & Sustainability
All Fuel Ox® fuel additives significantly reduce greenhouse gases & noxious fumes expelled into the environment while using less fossil fuels to operate equipment. The entire Fuel Ox® Infinity Lube™ family of lubricants is biobased and toxin free, therefore it's safe for the environment and "Green!"
In addition, Fuel Ox® products reduce routine maintenance costs, extend engine life, and reduce the cost of replacement fuel filters. Our products are also very economical for end users as a single ounce can treat over to 80 gallons of fuel.
With these advantages, it's no wonder that Fuel Ox® is setting the new standard in lubrication and fuel additives.
Our Partners
Fuel Ox® works exclusively with industry leaders in sustainability & innovation.








THE LATEST FROM FUEL OX
Don't miss a beat. Our latest company news & articles tailored to industry at large.